Connecting students to Jesus and one another
in real and authentic relational environments.
Currently online due to COVID-19.
Middle School (6th - 8th grade)
Middle school students meet in the Student Center to study the Bible in small group settings. During this time, the ministry has a breakfast option to purchase (usually no more than $2-3).
High School (9th - 12th grade)
We want our high school students to be connected to the church as a whole, which is why we encourage them to attend the main worship service each week. We also invite them to come hangout in the Student Center before and after each service to grab breakfast and say hello.
Students are encouraged to sit in one service and serve during the other, in areas such as communion prep, worship band, tech team, children's ministry, and greeters.
Sunday evenings 6:00pm - 8:00pm
Currently online due to COVID-19.
Middle School & High School
Our main student ministry night full of games, engaging worship and teaching, and time for our students to connect and grow in their relationship with Jesus. Our leadership team is passionate about teaching your students and showing them how to follow Jesus in daily life.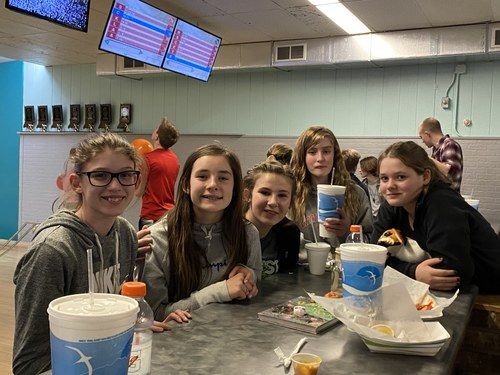 Meet Our Student Coordinator!
Julie, and her husband of 22 years, enjoy life in the country, family, and especially their two sons, Tyler and Seth. While Julie serves in the Student Ministry, she also works full time at the Putnam County Community Foundation. Hobbies for Julie include shopping, time with people, planning weddings/events, and anything her kids are involved with. She likes Hallmark Movies and Home Renovation Projects.
"My encouragement for families is to always stay involved with your students and what they are doing. We love seeing your kids 2 hours per week and we want you to know that we are here for you, supporting your family. Call us anytime you need. God wants us to join in community and we can help each other raise Christians that love like Jesus loved. Matthew 6:34 says, 'Therefore do not worry about tomorrow, for tomorrow will worry about itself.' Each day has enough trouble of its own. Less worry, more trust in what our God can do in our daily lives."